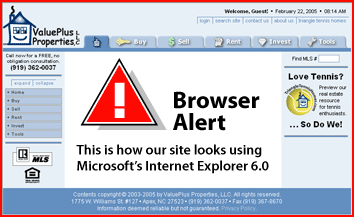 It appears your browser is not Microsoft's Internet Explorer (6.0, 7.0, or 8.0) (aka MSIE). Our site is unlikely to look or function as intended using any other browser. MSIE is available from Microsoft as a free download from their site.
This is the only browser compatibility warning you'll receive during this visit to our web site. Each visit is considered to end when you close all of your browser's windows or after 15 minutes of inactivity.
---



6. Execute the Contract

February 20, 2020 - 4:45 AM EST

Call now for a FREE, no

obligation consultation.

(919) 362-0037
6. Execute the Contract
Once an offer has been accepted by both buyer and seller, a binding contract is created. You and the buyer now have a legal duty to one another to finish all the tasks necessary to fulfill your contractual obligations and complete the transaction.
This is no time to coast, there's still work to be done to get to the closing table. Good thing your team is there to guide you and take care of everything according to your instructions!
Typical Seller Team Responsibilities
Maintain the property in good condition.
If applicable, track the buyer's financing or loan process and help them remove any financing contingencies.
If the buyer's preliminary report from the title company reveals title defects, they must be remedied before you can close the deal.
Depending on the situation, continue marketing the property and consider taking backup offers.
Facilitate property inspections and other vendor services.
Oversee legal document preparation required for closing.
Help remove any inspection contingencies, potentially negotiating repairs or allowances.
Supervise any required repairs.
Facilitate a final walk-through just before closing.
---