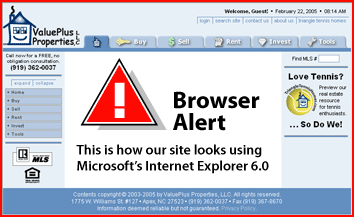 It appears your browser is not Microsoft's Internet Explorer (6.0, 7.0, or 8.0) (aka MSIE). Our site is unlikely to look or function as intended using any other browser. MSIE is available from Microsoft as a free download from their site.
This is the only browser compatibility warning you'll receive during this visit to our web site. Each visit is considered to end when you close all of your browser's windows or after 15 minutes of inactivity.
---



Terminology: V

January 22, 2020 - 1:14 PM EST

Call now for a FREE, no

obligation consultation.

(919) 362-0037
Terminology: V
Vacancy and Collection Loss

Rental income lost due to vacancies and the inability to collect rent due from tenants.
.

VA guarantee

An insurance contract for which the Veterans Administration (VA) guarantees the lender's recovery of a designated percentage of the loan amount from the insurer in the event that the borrower defaults on the loan.
.

VA loan, or Government mortgage

A mortgage loan available to qualified military veterans which is guaranteed by the Department of Veteran Affairs, usually offering either no down payment or a low down payment.

Valuation

The estimated value of a property.

Value in Use

A subjective value a buyer or seller may assign to a specific property based on its perceived usefulness to that individual only. Value in use is generally greater than market value.

Variable rate mortgage, or Adjusted rate mortgage

A mortgage with interest rates that may fluctuate based on market conditions.

Variance

A permitted, one-time, deviation from specific requirements of a zoning ordinance because of the special hardship to a property owner.

Verification of Deposit

A statement signed by the borrower's financial institution that verifies the current balances in the borrower's accounts.

Verification of Employment

A statement signed by the borrower's employer that verifies the borrower's current position and salary.

Vest

To pass an immediate right on to a person.

Vested

Having the right to withdraw a percentage of a fund before its agreed-upon maturity date; e.g., the percentage vested to individuals with retirement funds differs; if someone is 80% vested, that means they can only withdraw 80% of the funds set aside for them until its maturity.

Department of Veterans Affairs (VA)

A federal agency that insures residential mortgages made to eligible military veterans, which thereby encourages loans being made to veterans.
---